Zenuwsnede
Voor paarden bij wie geen enkele behandeling in de ondervoet, geneeskundig of beslagtechisch, effect heeft, zijn bepaalde ingrepen een verademing.
Paarden met een ernstige hoefkatrolontsteking hebben altijd pijn.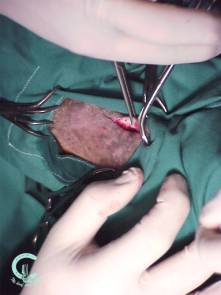 Als alles is geprobeerd, zal als laatste voor de zenuwsnede worden gekozen.
Hierover wordt veel gediscussieerd. Iedereen heeft een ander mening, variërend van "niet tolerant" tot "dierenkwelling", maar wat moeten we doen als niets helpt? 
Moet je de paarden laten lijden omdat je ertegen bent dat uit de ondervoet de zenuw wordt weggenomen, zodat het paard niets meer voelt?  
Wat is de behandeling? 
Eerst wordt door een veearts goed bekeken of het aangeboden paard na een ondervoet- anesthesie kreupel blijft of juist heel goed gaat lopen.  Als het laatste het geval is, kan het een kandidaat zijn voor deze behandeling.
Wat wordt er gedaan? 
Bij beide benen worden de twee zenuwen in de kootholte opgezocht en vrijgelegd.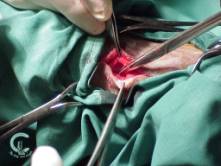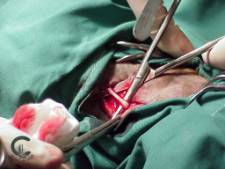 Als de zenuw is opgezocht, wordt hij zoveel mogelijk blootgelegd.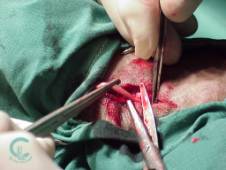 Daarna zal zoveel mogelijk van de zenuw worden verwijderd zodat de uiteinden niet meer naar elkaar kunnen groeien om te herstellen.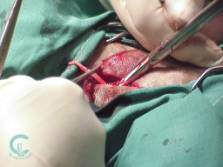 Zodra een stuk van de zenuw is verwijderd, wordt de wond gesloten en zal het paard 4 weken boxrust krijgen om te herstellen.
Het is wonderlijk om in de praktijk te zien dat het paard zich vliegensvlug herstelt. Aan de beweging zal men niets meer kunnen zien.
Alle behandelingen die we hebben meegemaakt, hebben een zeer goed effect; eventuele bijkomende problemen zijn bijna te verwaarlozen.
Als reactie zal de voet zich beter ontwikkelen. Omdat het paard de voet nu beter belast, werkt het hoefmechanisme beter en groeit de voet ook beter.
Doordat de beweging van de voet wordt hersteld (geen pijn), blijft het probleem röntgenologisch bezien meestal constant. 
Wel moeten we de voeten blijven controleren, want het paard voelt niets. Hoefbeslag is nu een must.
In onze praktijk hebben we geen enkel probleem ondervonden met de paarden die een zenuwsnede hebben gehad, sterker nog, de paarden zijn veel verder in de sport gekomen.
Veel paarden die zo zijn behandeld, lopen nog steeds op een hoog niveau in alle disciplines in de paardensport.