wat is….
Hoornzoom rap is een irritatie aan de hoornzoom, gelegen op de kroonrand. Dit is meestal het gevolg van het insmeren van de hoornzoom met zalven en vetten om de hoorngroei te bevorderen. 
Oorzaak en behandeling….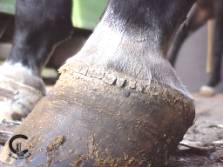 We willen onze viervoeters zo goed mogelijk verzorgen. Daarom wordt iedere dag veel zorg aan de voeten besteed. Er zijn paardenminnende lieden die er alles aan willen doen en de voeten met allerlei producten behandelen.
De voeten worden goed schoongemaakt, daarna met water afgewassen, gedroogd en met een harde borstel of staalborstel afgeschrobd om zo de laatste vieze plekjes weg te nemen. De kroonrand wordt met zalven, vetten  en scherpe middelen gemasseerd of er wordt een dikke laag opgesmeerd. Daarbij wordt echter telkens een deel van de opperhuid meegenomen.
Tot slot wordt de gehele hoornschoen fijn ingesmeerd met een waterdoorlatende, diep inwerkende en geneeskrachtige hoefzalf, want het paard moet blijven lopen.
Natuurlijk doen we dit om een nog betere groei van de hoornschoen te realiseren. Maar niets is minder waar. Een gezond paard heeft altijd een normale groei. Vetten, smeersels en zalven zijn overbodig en hebben geen enkel effect op de hoorngroei.
Natuurlijk moeten de voeten worden verzorgd, maar overdaad schaadt! Waar zijn we mee bezig? Weten we wel zeker dat dit nodig is? Diverse producten claimen dat ze van alles doen, maar is dit ook bewezen?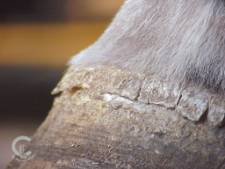 Door het veelvuldig gebruik van vetten en zalven op de kroonrand kan de zoom geïrriteerd raken en zelfs geblisterd worden. Deze zoom gaat extra hoorn produceren dat als een extra hoornlaagje op de hoornschoen ligt. De kroonlederhuid is hier nog niet aangetast; het probleem beperkt zich dus tot de hoornzoom.
Bij langer gebruik van scherpe middelen kan de irritatie leiden tot een ontsteking van de hoornzoom en, daaronder, de kroonlederhuid en, aan de achterzijde van de voet, de ballederhuid. Door deze ontsteking van de hoornzoom, de kroonlederhuid en de ballederhuid ontstaat een abnormale hoorngroei waarbij de hoornwand van structuur verandert.  zie> RAP< 
Bij rap aan de hoornzoom (niet op de kroonlederhuid) zal de laag met hoorn op de hoornschoen liggen. Bij het uitdrogen wordt dit pijnlijk. Bij het verwijderen zal de kroonrand hevig bloeden.
Wat te doen?  Stop met het insmeren van de kroonrand en gebruik zeker geen vetten. Denk niet dat de voet zoveel moet worden ingevet; de hoornschoen bestaat vooral uit water.
Door de extra verhoorning van de zoom een tijd lang vochtig te houden, zal deze hoorn week worden en gemakkelijk kunnen worden verwijderd. Meestal kunnen we op de zoom tijdelijk wat vaseline aanbrengen (zeer dun in masseren) zodat de zoom zich weer volledig kan herstellen.