wat is….

Hoornkloven zijn defecten in de hoornschoen.
| | |
| --- | --- |
| | |
| Hoornkloven zijn defecten of onderbrekingen in de hoornwand. Zij ontstaan door een doorbraak van een hoeflederhuidontsteking ( Pododermatitis) in het gebied van de kroonrand. | Meestal begint het probleem in de ondervlakte van de voet doordat het paard op vuil of steentjes trapt. Hierdoor ontstaat een ontsteking ( Pododermatitis). Deze ontsteking begint altijd van onder de zool en gaat via de wandlederhuid (tussen hoornwand en hoefbeen) naar boven (rode lijn ) om daar vervolgens uit te breken. |
Een ontsteking breekt altijd uit onder de kiemlaag van de hoornwand (een kiemlaag is de bodem voor de ontwikkeling van de hoornwand) en geeft een tijdelijke onderbreking.
Meestal ontstaat een hoornkloof onder de voet door een hoefontsteking. Men ziet dat het paard kreupel is, maar na een dag is het weer rad (niet kreupel). Na enkele dagen wordt het weer kreupel. De veearts wordt geconsulteerd. Deze bekijkt de voet en dient het paard penicilline toe.
Het paard lijkt enkele dagen weer goed te zijn, maar dan begint het opnieuw.
 Wat is hier eigenlijk aan de hand? Zodra een paard een hoefontsteking krijgt, moet de ontsteking worden opgespoord en verwijderd. Gebeurt dit niet en behandelt men het paard met penicilline, dan blijft de ontsteking wel enkele dagen rustig, maar men lost er niets mee op. Na een tijdje zal de hoefontsteking in volle hevigheid en met een nog grotere schade tot gevolg aan de kroonrand uitbreken. De uitbraak zal explosief zijn en de kroonlederhuid zal uitpuilen door de druk van de ontsteking. De wond heeft een glasachtige kleur ( 3 foto's boven).
Links: een uitbraak van een hoefontsteking die onder in de voet is begonnen. Zo ontstaat  tevens van een hoornkloof.
Een  uitbraak (zonder penicilline) van een hoefontsteking. Op deze plaats zal de productie van hoornwand (ter hoogte van de kroonrand) voor korte tijd worden onderbroken.
Onder de uitpuiling van de lederhuid wordt de wand iets weggesneden; een betadine drukverband wordt aangelegd om de lederhuid weer op haar plaats te drukken.
Als dit verkeerd afgroeit, vertoont het een horizontale lijn, al dan niet perforerend.
Verdere behandeling is niet nodig. De wand groeit vanzelf naar beneden af en verdwijnt na het bekappen van de voeten.
De hoornwand onder deze horizontale scheur zit los van de lederhuid (gele lijnen). Deze kunnen we het beste laten zitten omdat zij voldoende bescherming en stevigheid biedt aan de voet.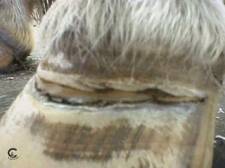 Er zijn ook gevallen waarbij drie kwart van de schoen los komt. Deze paarden worden op dezelfde manier behandeld en beslagen. Het paard kan hierop natuurlijk wel gevoelig zijn, maar dit neemt vanzelf af.
Zodra de ontsteking is uitgebroken, zal de kiemlaag actiever worden. Een extra hoorndikte wordt aangemaakt om zo de schoen op een natuurlijke manier extra stevigheid te geven.
beslag…
Voeten met hoornkloven worden normaal beslagen. Er zal alleen een moment zijn waarop het heel moeilijk is om het hoefijzer te nagelen omdat de hoornwand op de breedte van de hoornkloof los zit. Een hoefsmid die zijn vak verstaat, zal dit wel kunnen.