Wat is….
Draagwandscheuren zijn scheuren die kunnen ontstaan door het uitbreken van de draagrand van de hoornschoen. Hieraan kunnen veel oorzaken ten grondslag liggen. Scheuren in een voet treden nooit spontaan op. Er is altijd een oorzaak.
Oorzaak en behandeling…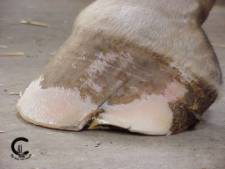 Draagwandscheuren kunnen ontstaan door steenslag, door op oneffen stenen te lopen, door op randen te staan, te veel op de ruwe ondergrond te lopen, niet op tijd laten bekappen, verwaarlozing van de voeten of door het niet uitkrabben van de voeten (dus door het niet controleren van de draagrand op steentjes of vuil).

Ook kunnen scheuren ontstaan door een onevenredige belasting van de draagwanden. Een voet wordt bijvoorbeeld verkeerd bekapt, zodat de teen te lang wordt en de verzenen te kort. Hierdoor wordt de druk op deze verzenen veel te groot, wat het uitbreken en scheuren van de zijwanden tot gevolg heeft. 
Meestal ontstaan draagwandscheuren door het intrappen op kleine steentjes die zich vastzetten in de witte lijn. Deze steentjes dringen diep in de witte lijn, zodat zich daar een bacterie kan ontwikkelen.
Hierdoor kan een ontsteking van de lederhuid ontstaan.
Zodra zich een ontsteking ontwikkelt, ontwikkelt zich tevens een schimmel (zie White Line Disease).
De ontsteking zal zich in de hoornschoen naar boven een weg banen. Dit brengt de nodige problemen met zich, die ook weer een kreupelheid kunnen veroorzaken.
De scheuren worden weggenomen. Van de wand wordt net zoveel weggenomen totdat de wand weer een volledige gezonde aanhechting heeft.
Nu kunnen we zien dat de lederhuid geelachtig is geworden. Normaliter is deze wit. Dit betekent dat er een ontsteking heeft gezeten. Ook zien we een zwart streepje. Dit streepje is het vuil dat tussen de hoorn en het vleesplaatje van de lederhuid zit.
De wand kan nu verder normaal afgroeien zonder dat deze zal scheuren. Wel moeten we de voet beschermen door het paard op een beslag te zetten.
Meestal komen draagwandscheuren voor door  verwaarlozing of het niet op tijd bekappen van de voeten. Door het indringen van vuil in de witte lijn kan een ontsteking ontstaan,  waarna het vuil gemakkelijk in deze witte lijn kan binnendringen wat tot resultaat heeft een scheurende hoornwand
Beslag….
Draagwandscheuren kunnen ook ontstaan door slecht beslag, door een niet goed passend ijzer en door te veel buiten de witte lijn in de hoornwand te nagelen.
Een voet met draagwandscheuren wordt meestal beslagen met een hoefijzer zonder teenlip, omdat anders te veel druk wordt gegeven op de hoornwand.
De voet mag nooit met dubbele lippen worden beslagen omdat daardoor het hoefmechanisme van de voet wordt belemmerd. Het hoefmechanisme kan zo sterk zijn dat de wanden op de plaats van de lippen stuk zullen gaan.