Voorklapijzer  of  Jachtijzer.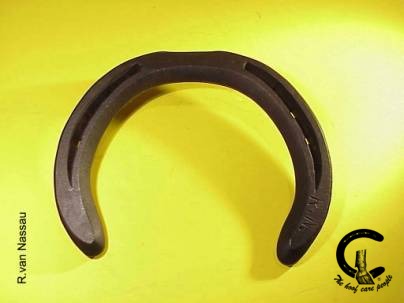 Een voorklapijzer of ook wel jachtijzer genoemd dien om het optrappen of inklappen van de achtervoet  te voorkomen.
Klappen in de ijzers is niet alleen een onaangenaam geluid maar kan ook blessures veroorzaken.
Bij het voorklapijzer of jachtijzer mogen de takuiteinden  niet langer zijn dan de uiteinden van de verzenen. 
 
Een nadeel van dit ijzer is dat  bij een gezonde hoorngroei van de voet de hoornschoen niet meer voldoende zal worden ondersteund en kunnen de wanden beschadigen en kneuzingen veroorzaken.
Dit hoefijzer word daardoor weinig gebruikt.