Nederlands balkijzer.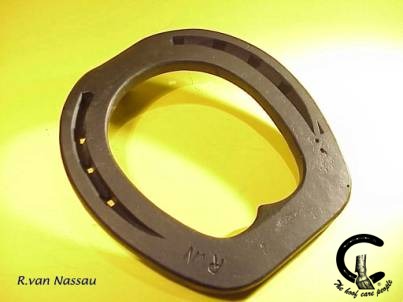 Een balkijzer is een ijzer waarbij de takken met elkaar verbonden zijn door een balk of brug.
De balk of brug  kan verschillen van dikte, en heeft te maken met het gewicht.
Een balk die dezelfde dikte heeft als het hoefijzer  noemt men het Nederlands balkijzer. Een balk die niet dezelfde dikte heeft word Belgisch balkijzer genoemd.
Er zijn vele aanwijzingen waarbij het aanleggen van een balkijzer zinvol is v.b. het verbeteren van het hoefmechanisme ( de tegendruk van de balk tegen de straal bevorderd het spreiden van de achterste hoefhelft)
Wanneer een gedeelte van de draagwand moet worden verwijderd of worden vrijgelegd of de verzenwanden zijn gedeeltelijk stuk is een balkijzer zeker een uitkomst.
Om het gewicht van de balk te reduceren gebruiken we beter we een begisch balkijzer.
Het balkijzer word gebruikt om:
1. het steunvlak te vergroten.
2. de onafhankelijke beweging van de takken te stabiliseren.
Bij paarden met hoefkatrolontsteking kan een balkijzer zeer functioneel werken.