Hoefijzers van vroeger.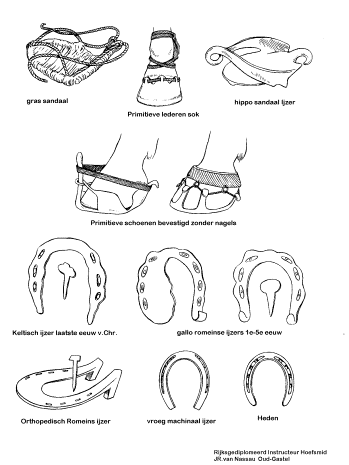 Een hoefijzer moet stevig op zijn plaats worden gehouden, en dat kan het beste gebeuren door middel van nagels. 
De kelten , die vakkundig ijzerbewerkers waren, ontdekten dat het mogelijk was om hoefijzers aan te brengen door het bevestigen van de nagels in de ongevoelige gedeelte van de hoef. 
In het Midden-Oosten en rond de Middellandse Zee hebben de Arabische paarden met hun harde hoeven weinig bescherming nodig.
Toch werd door de Romeinen een soort ijzeren sandaal gebruikt die door riemen op zijn plaats werd gehouden.
De Grieken gaven daarentegen de voorkeur aan sandalen van geweven gras.
 Geen van deze sandalen was bestemd voor regelmatig gebruik. De kans op uitglijden was groot, en bovendien zouden er gemakkelijk steentjes tussen hoef en sandaal komen.
Zonder twijfel waren ze dan ook bedoeld als een soort verband voor zieke hoeven.
Het hoefijzer bleef door de eeuwen heen heel populair. Soms waren deze hoefijzers voorzien van vaste "kalkoenen" om het paard meer houvast te geven.
Bij vaste "kalkoenen" zijn de "takken" aan aan het uiteinde van het ijzer naar beneden omgeslagen.
Ongeveer honderd jaar geleden werden de hoefijzers voor het eerst voorzien van lippen om ze beter op hun plaats te houden.
In onze tijd is er een grote variatie in de vorm en het materiaal waarvan hoefijzers zijn gemaakt.
Correctiebeslag kan een overmatige belasting van banden en pezen (als gevolg van een slechte bouw) verminderen.
Ook kan het de gevolgen beperken van een verwonding, en het genezingsproces bevorderen door kwetsbare delen van de hoef te beschermen of te ondersteunen.
Bij paarden op de renbaan worden lichtgewicht aluminium of zelfs plastic hoefijzers gebruikt om te voorkomen dat te zware ijzers hun snelheid belemmeren.