H et been

Het been bestaat uit botten, spieren, pezen en banden. Een paard heeft onder de knie en het spronggewricht geen spieren maar pezen. De benen worden zwaar belast: op bepaalde momenten, als het paard aan het galopperen is, wordt zijn hele gewicht door één been gedragen en wordt er grote druk uitgeoefend op de pezen aan de achterkant van het pijpbeen. Een goede bouw voorkomt dat er een te grote   spanning ontstaat, wat tot blessures zou kunnen leiden van de pezen en gewrichten.
Correcte bouw.
Het is moeilijk om een paard te vinden met benen die in alle opzichten perfect zijn, maar hoe beter ze zijn, des te kleiner is de kans op gebreken. Het been vanaf de zijkant van het paard gezien moet een verticale lijn hebben. Vanaf de "kogel" moet deze lijn onder 45 ° naar voor lopen, dit noemt de hoefsmid een voetas. Het been vanaf de voorkant gezien moet ook een verticale lijn hebben. De pezen en gewrichten mogen niet vol of opgelopen zijn (dik).
                               Benen voor elk type paard. De gewrichten van alle paarden hebben dezelfde bouw, maar ze hebben zich aangepast aan de specifieke eisen die er aan een ras worden gesteld. Dunne benen zijn geschikter voor snelheid en zijn beweeglijker. Grote gewrichten hebben een groter oppervlak waarover het gewricht van een zwaar paard zich kan verdelen. Kleine gewrichten bij een groot paard of andersom hebben problemen tot gevolg.  
 Als het paard de voet op de grond zet, kan de hoef iets uitzetten en als hij de voet weer optilt wordt de voet weer kleiner.
Door deze beweging wordt bloed aangetrokken en weer weg geperst. Hierdoor krijgt de hoornschoen voeding om te kunnen groeien. Deze werking van de hoornschoen heet "hoefmechanisme".                                       
Scharniergewrichten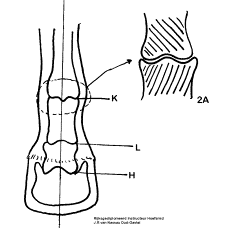 Het paard heeft niet dezelfde gewrichten als een mens. Een mens heeft namelijk kogelgewrichten. Zij kunnen de gewrichten in alle standen bewegen of draaien. 
Een paard heeft alleen maar scharniergewrichten, zodat hij de benen alleen maar naar voor en naar achter kan bewegen. De lijn die dan door de gewrichten loopt, heet ook een voetas, maar dan als je voor het paard staat.