Hoornzuil
Wat is….
Een hoornzuil is een nieuw stuk hoornweefsel dat van de kroonlederhuid in de lengterichting in de binnenzijde van de hoornschoen naar beneden afgroeit. Er zijn verschillende soorten hoornzuilen, die alle een andere oorzaak hebben.
Hoornzuilen zijn zeer moeilijk te herkennen omdat ze eruit kunnen zien als een onschuldig hoornscheurtje, maar een hoornscheur, waar dan ook, heeft altijd een oorzaak.
Oorzaak en behandeling….
Een hoornzuil kan worden gevormd op alle plaatsen in de hoornschoen. De oorzaak is vrijwel altijd een ontsteking of een beschadiging van buitenaf (bij het springen stoot de voet tegen een balk of het paard slaat met de voorvoet tegen een deur).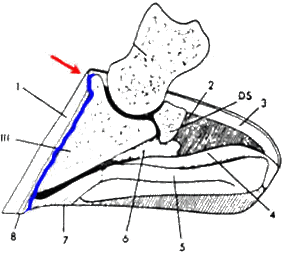 De hoornwand wordt gevormd door de kiemlaag van de kroonlederhuid (rode pijl).
Door deze prikkel vormt de kroonlederhuid (rode pijl )een abnormale cilindrische groei, en wel aan de binnenzijde van de hoornschoen.
Een hoornzuil verloopt meestal over de gehele lengte (aan de binnenzijde) van de hoornwand (blauwe lijn). Deze zal op de lederhuid drukken waardoor het paard kreupel zal gaan.
Een hoornzuil kan ook midden in de hoornschoen beginnen. We moeten dan aannemen dat de interlaminaire hoorn, gevormd door de plaatjes van de wandlederhuid, een prikkel krijgt die ervoor zorgt dat een hoornzuil wordt gevormd.
Links: de hoornschoen van bovenaf bezien met daarin het hoefbeen.
Rechts: de inwendige hoorngroei (gele pijl)    1. kroonlederhuid   2. wandlederhuid  3.zool
Een hoornzuil kan op alle plaatsen in de hoornschoen voorkomen. Meestal ontstaat deze in de teen omdat deze plaats het vaakst wordt gestoten. Hoornzuilen treden ook op als een complicatie bij doorlopende geperforeerde hoornwandscheuren. Deze geperforeerde hoornwandscheur komt het meest voor door kroonrandverwondingen (kroonbetrapping links onder). De kroonlederhuid wordt ter plaatse geïnfecteerd, waardoor ook de gehele wandlederhuid onder de hoornscheur wordt geïnfecteerd.
Door de druk van de hoornzuil wordt een sleuf in het hoefbeen gevormd, wat leidt tot een ernstige kreupelheid. Op de röntgenfoto is meestal een uitholling te zien (midden onder).
Aan de onderzijde van de voet zien we meestal de witte lijn, die halfmaanvormig naar binnen omloopt, wat duidt op een hoornzuil (rechts onder).
Als een hoornzuil geen aanleiding geeft  tot kreupelheid wordt deze niet verwijderd.
Beslag….
Bij een hoornzuilbehandeling dient men het beslag aan te passen voordat men aan de operatie begint. Dit om te voorkomen dat de voet onnodig lang in bloedleegte blijft staan. Men kan vooraf goed bepalen waar de eventuele lippen van het hoefijzer moeten komen te staan. Bij een geïnfecteerde hoornzuil zal men een balkijzer  nemen om de voet optimaal te laten werken. De hoornschoen is immers nog redelijk sterk.
Het op tijd laten beslaan is een must bij dit soort problemen.