Om goed te kunnen communiceren met hoefsmeden en veeartsen onderling heeft de ondervoet benamingen die voor iedereen waar dan ook ter wereld hetzelfde zijn. Hiermee kunnen we exact aanduiden waar en op welke precieze plaats het probleem zich bevindt.
Het is ook aan te bevelen dat iedere eigenaar een beetje op de hoogte is van deze benamingen, in de praktijk ontstaan nogal eens verwarde verhalen, dit komt omdat er meestal een eenrichtingsverkeer ontstaat tussen klant en hoefsmid.
De voor en achtervoet verschillen van vorm met elkaar: de voorvoet is rond en de achtervoet spitsvormig
De bekapte ondervoet bezien
A. Hoornwand of draagwand.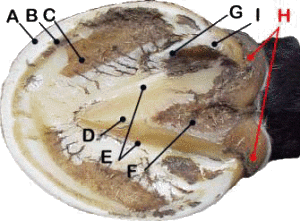 B. Witte lijn of nagellijn  (beter genoemd gele lijn).
C. Zool.
D. Straal.
E. Zijdelingse Straalgroeve.
F. Middelste Straalgroeve.
G. Steunsels,Verzenomslag (een  omslag van de draagwand).
H. Hoornige ballen.
I.   Verzenen.

De zijde van de voet bezien:                                                                                                    
H.Ballen.      
                                                                                                               
I.  Verzenen.
J. Kroonrand.
K. Glazuurlaag van de kroonrand.(beschermlaag)
L.  Hoornwand.
M. Verzengedeelte.
N. Zijwandgedeelte.
O. Toon of teen gedeelte
Voet van achter bezien: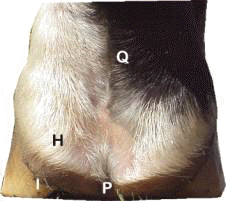 H.Ballen.                                                    
I.  Verzenen.
P. Middelste Straalgroeve.
Q. Kootholte.
Gedeelten van de ondervoet:
Voor het gemak delen we de ondervoet in vier delen.
Duidelijk is te zien de binnen en buitenzijde, het buitenverzengedeelte (2) loopt verder door (langer) dan de binnenverzenen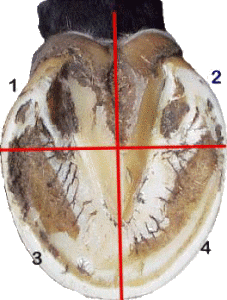 1. Binnen verzenkwartier gedeelte.
2. Buiten verzenkwartier gedeelte.
3. Binnen teen kwartiergedeelte.
4. Buiten teen kwartiergedeelte.
1 en 2. achterste voethelft.
3 en 4. voorste voethelft.
de ondervoet gezien (voorzijde) waarbij we nu precies kunnen bepalen waar de botten zich bevinden:
1.Kootbeen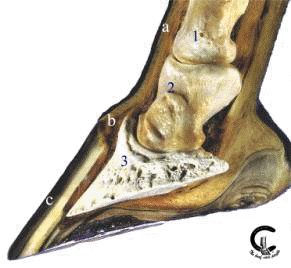 2. Kroonbeen
3. Hoefbeen
a. Opperhuid
b. Kroonrand
c. Hoornschoen
Ook kunnen we zijwaarts zien waar de botten zich bevinden.
Voetas met benamingen van de botten.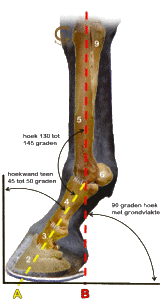 1.straalbeen
2.hoefbeen
3.kroonbeen
4.kootbeen
5.pijpbeen
6.sesambeenderen (2)
9.griffelbeenderen (2)