Door geweld van buitenaf of doordat het paard op een scherp voorwerp stapt, kan spontaan een botstukje van het hoefbeen afbreken. In sommige gevallen leidt dit tot complicaties.
Oorzaak en behandeling….

Als een paard op bijvoorbeeld een hard stuk steen trapt of een ongelukkige sprong maakt, kan van het hoefbeen dat in de hoornschoen verpakt zit een stukje botweefsel afbreken.
In de meeste gevallen ontstaat hierdoor in de schoen een ontsteking. Het paard kan hierdoor kreupel gaan, maar in sommige gevallen zal het paardenlichaam meteen reageren en dit los stukje inpakken met bindweefsel. In dat geval zal dit stukje geen probleem met zich brengen.
Meestal zien we het los stukje aan de voorkant van het hoefbeen omdat deze plaats het meest kwetsbaar is. Deze aandoening komt minder voor bij paarden met hoefbeslag, omdat het hoefijzer deze plaats beschermt.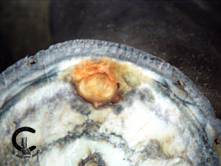 De voet wordt bekapt. Plots komt er een onderbreking in de zool. Onder deze zool blijkt een rond glanzend hard weefsel te zitten. Alles wijst erop dat van de punt van het hoefbeen een stukje is afgebroken dat door het lichaam is ingekapseld.
Het ronde "eitje" bestaat uit zeer sterk weefsel dat rustig onder de zool aanwezig was zonder ontstoken te zijn. Dit komt omdat het eitje genoeg ruimte heeft gemaakt om met de voet te bewegen zonder een reactie te geven waardoor het paard kreupel kan gaan.
Rondom het eitje is enige ontstekingsreactie te bespeuren.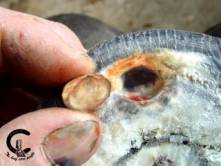 Het ronde eitje is gemakkelijk te verwijderen en laat op die plaats een holte achter die na verloop van tijd geheel zal worden opgevuld met necroseweefsel  (opvulweefsel van een ander structuur).

De open holte wordt schoongemaakt, de zoolranden worden netjes rond gesneden. In de holte wordt een gaasje met een betadineoplossing gestopt om het indringen van vuil te voorkomen.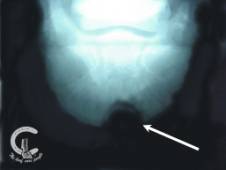 Op de röntgenfoto is duidelijk te zien waar het botstukje heeft gezeten. Er is genoeg ruimte gemaakt voor het ingekapseld  stukje.
De holte zal in de loop van de tijd door het lichaam worden opgevuld met een weefsel (necrose).
Het paard zal hiervan geen gevolgen ondervinden en blijft zeer goed bruikbaar.
De hoefsmid zal op deze plaats altijd een ander soort weefsel zien dat niet meer verdwijnt.