Wat is….
Een hoornzuil is een stuk nieuw hoornweefsel dat van de kroonlederhuid in de lengterichting in de binnenzijde van de hoornschoen naar beneden afgroeit. Er zijn verschillende soorten hoornzuilen, die alle een andere oorzaak hebben.
Waaierhoornzuilen zijn zeer moeilijk te herkennen en worden meestal ontdekt door de hoefsmid als hij het paard bekapt of beslaat.
Oorzaak en behandeling…
Zoals bekend, wordt de hoorn overal ontwikkeld door de kiemlaag  die overal de hoeflederhuid bedekt.
De hoornwand van de hoornschoen wordt gevormd door de kiemlaag van de kroonlederhuid.
Paarden met een waaierige hoornzuil zijn meestal niet kreupel omdat deze hoornzuilen plat en breed zijn en zodoende geen druk geven op het hoefbeen.
Meestal worden hoornzuilen ontwikkeld door het steeds irriteren van de kroonrand, bijvoorbeeld door het stoten tegen deuren, maar zij kunnen ook een gevolg zijn van een ontsteking die onder in de voet is ontstaan en langs een plaatje naar boven dus naar de kiemlaag toe loopt.
Het aangetaste gedeelte wordt vrijgelegd om goed te kunnen bepalen of deze hoornzuil problemen zal opleveren.
Naast de hoornzuil zien we een schimmel, die altijd aanwezig is bij ontstekingen en deformaties van de hoornschoen (zie White Line Disease).
Deze schimmel moet meteen worden behandeld omdat hij delen van de hoornschoen kan losleggen.
Op de breedte van de hoornzuil  zien we een kanaaltje. Dit is de hoefontsteking geweest die deze waaierige hoornzuil heeft veroorzaakt.
Deze ontsteking heeft de kiemlaag bereikt en breed geïrriteerd. Op op haar beurt heeft de kiemlaag een hoornsubstantie ontwikkeld aan de binnenzijde van de hoornschoen, die vervolgens ook breed naar beneden is afgegroeid.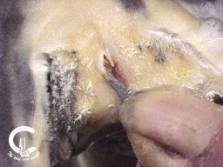 Als we dit kanaaltje iets openmaken, kunnen we de hoornplaatjes van de vleesplaatjes scheiden. Zien we gestold bloed, dan duidt dit op een agressieve ontsteking.
Het is meestal geen probleem dat deze waaierige hoornzuil hier zit. We zullen daarom verder niets ondernemen.  
Het is meestal geen probleem dat deze waaierige hoornzuil hier zit. We zullen daarom verder niets ondernemen, en zullen de hoornzuil zeker niet verwijderen.Het paard zal hieraan op dit moment niet kreupel gaan.
Wel moeten we de plaats waar de bebloede hoornplaatjes zitten curetteren (schoonmaken en licht verwijderen), om zo te voorkomen dat het paard hieraan nog problemen ondervind.
beslag….
Het beste beslag voor deze voet is een normaal achterklapijzer, waardoor de plaats van de waaierige hoornzuil wordt beschermd.
Indien het paard kreupel gaat, moet deze hoornzuil uiteindelijk toch worden verwijderd.