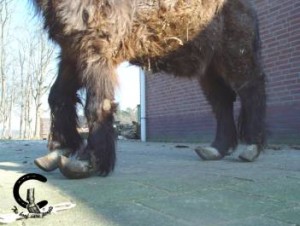 Een zeer ernstig gevolg van een hoefbevangen pony w
aarbij we moeten stellen dat de eigenaar in gebreke is gebleven.
Het gezegde wat wij vaak horen is "Het beestje is al oud", maar dit wil toch niet zeggen dat wij de dieren met deze aandoening het zelf maar uit moeten laten zoeken.
Ook een waardeloos excuus is het gezegde "als ze een keer hoefbevangen zijn geweest komt het iedere keer terug.Een zeer onwaar beeld van de ziekte hoefbevangenheid.
Zeker omdat we in de laatste jaren zeer veel vooruitgang in de behandeling hebben geboekt.
(ook te lezen op deze site)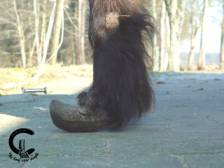 We hebben doordat we een dier hebben aangeschaft meteen de plicht om ze zo goed mogelijk te verzorgen wat niet inhoud ze eten te geven maar ze op de voeten zo goed mogelijk bij te houden. 
Al deze gevallen (die jammer genoeg wekelijks voorkomen)  kunnen we nog helpen, beter gezegd we moeten ze helpen, omdat ik vind dat de mens nooit deze dieren op deze wijze mag kwellen of nog beter gezegd te mishandelen.
Als deze gezegden en excuses kunnen naar het rijk der fabelen worden verwezen omdat er een enorme doorbraak is gekomen in de hoefbevangenheid en daardoor zeer veel paarden of pony's goed kunnen helpen.
In sommige gevallen van hoefbevangenheid groeien de voeten extreem snel en kunnen deze lengte ontwikkelen in 6 maanden, dus zal de hoefsmid iedere 4 tot 5 weken deze moeten bekappen willen we een normale voetvorm blijven behouden.
De achtervoeten zijn door de extremen groei omgekruld en staat het hoefbeen op de achterzijde waardoor de pony last krijgt van de pezen.
De voorvoeten zijn nog langer, de pony kan allen nog maar "waggelend"naar voor en
kan de krachten op de pezen niet meer verdragen.
Meestal zal de pony indien aanwezig op een afhellende kant  (sloot)
gaan staan omdat hij dat het hoefbeen op een juiste manier kan plaatsen
zonder daarbij de pezen te belasten.
De tenen worden met een ingekort met een zaag en proberen weer de normale stand terug te krijgen.

Op de foto is duidelijk de hoef lengte te zien die we hebben verwijderd, de rechter voet is nog niet behandeld en staat nog met een krullende teen.
| | |
| --- | --- |
| | De beide voeten zijn behandeld en hebben weer  een normale stand waarmee de pony weer een beetje gelukkiger zijn leven kan slijten. |
| | Het resultaat…. |