Een pony is aangeboden met het verhaal dat hij niet meer of zeer moeilijk zijn box uit kan komen. we schrokken zoals hij liep en dan had de eigenaresse hem nog pijnstillers gegeven.
de pony stond op dubbele lippen, bij nadere inspectie zagen we dat de smid een machinaal ijzer had gebruikt en hem zonder opzet had beslagen
de hoefsmid had de gehele voorkant van de hoornschoen weg gevijld, en zelfs zo veel dat je aan de voorzijde van het hoefbeslag de witte lijn kon zien, wat betekend da de gehele draagwand was verwijderd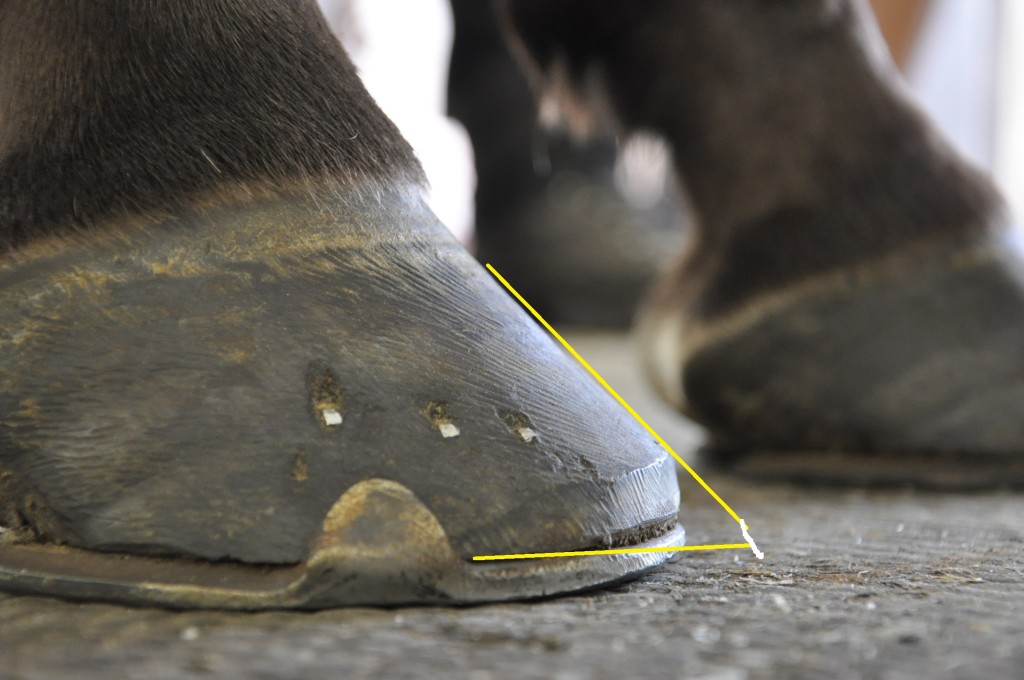 de smid heeft de hoornwand gewoon afgevijld niet wetende dat een paard op de hoornschoen moet kunnen lopen.
| | |
| --- | --- |
|   |  de rode lijn geeft aan waar de hoornwand had moeten staan!! |

op dit soort manieren een voet te behandelen is in onze ogen misdadig!!
een hoornwand is een gedeelte van de voet waarop het gehele paard moet kunnen rusten en moet kunnen functioneren, wij kunnen dit zo maar niet ontnemen, of we krijgen een ernstige kreupelheid.
de rode stippellijn geeft aan waar het hoefijzer had moeten liggen, ook de linker voet had de hoefsmid op deze manier behandeld.
het is dan ook logisch dat deze pony grote problemen had met het lopen  omdat de pony niet op de hoornwand kon steunen maar alleen op de zool
de pony mag de eerste maanden niet aan de wegstrijd sport deelnemen. het is nog maar eens een waarschuwing om uw paard of pony niet te laten beslaan met dubbele lippen ijzer omdat dit voor een paardenvoet belemmerd en altijd problemen geeft en wat anatomisch niet kan.
dit soort mensen die zich nog uitgeven voor hoefsmid zouden opnieuw een cursus moeten volgen hoe een paard te beslaan op een normale manier

| | |
| --- | --- |
| Zoals het hoort, dit ijzer past onder de hoornschoen | |