Bouley ijzer.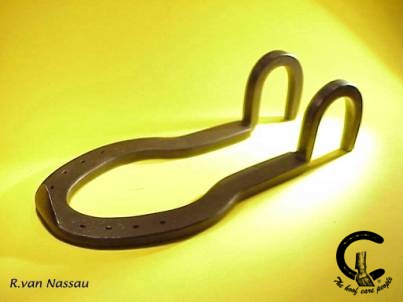 Het bouley ijzer word gebruikt bij het zeer diep doortreden in het kootgewricht als gevolg van een verwonding waarbij een of meerdere buigpezen zijn betrokken.(scheuringen of afscheuringen van een of meer pezen).
Het ondersteund de voet zodat het paard het been normaal kan blijven belasten. (de voet word vastgehouden)
Indien dit ijzer word gelegd moet het paard boxrust.
Vroeger werd dit ijzer ook gebruikt bij zeer ernstige afwijkingen van beenstanden  maar met dit ijzer zijn afwijkingen niet te veranderen.